Concerning modern graphics design app, Sketch is universally loved. But the exclusive technologies to macOS can't stop your design passion because there are Sketch alternatives! And right off the bat, I will offer you some available for you.
Are you searching for Sketch alternatives? For several years, Sketch has been one of the most well-liked platforms for UI design. Luckily, it isn't the only option that offers advanced editing. Here are Sketch alternatives, and they can be used on various platforms, devices, and systems.
(If you also need a free video-editing tool, try MiniTool MovieMaker.)
Figma
Availability: Windows, macOS, and Web
Pricing: Free for 2 projects, or $12 per month for unlimited projects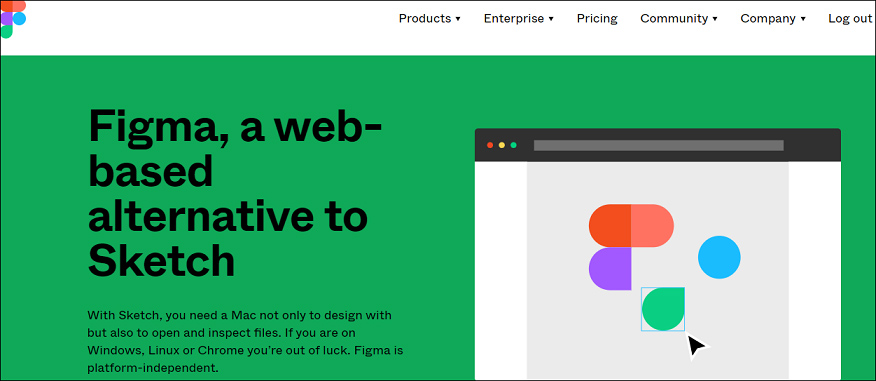 Figma is probably the most popular Sketch alternative for Windows. It is a great tool you can use for all kinds of design work, including UI design and prototyping. Figma works directly on your browser, making it a great platform for collaborative work. It also features all the powerful tools you need to craft professional designs, just like on the Sketch app.
Features:
Vector editing with an intuitive pen tool
Streamlined designing with frames, overlays, and reusable components
Multiplayer co-editing for easy collaboration
Interactive prototyping
Also read: Top 5 Best Canva Alternatives for Amazing Graphic Design
Adobe XD
Availability: Windows, macOS
Pricing: Free, or $9.99 per month
Adobe astounded everybody when the brand-new UI design tool was released. Adobe XD mainly focus on design, prototype, and collaboration. It provides an impressive suite of features like auto animation, repeat grid, and responsive resize. Pretty much all the tools a designer need.
Features:
Integrates with the other Adobe's apps
Great editor suit for both apprentices and specialists
Auto prototyping
Responsive resize
Also read: Top 6 Best Adobe Illustrator Alternatives in 2021 [Free & Paid]
Lunacy
Availability: Windows
Pricing: Free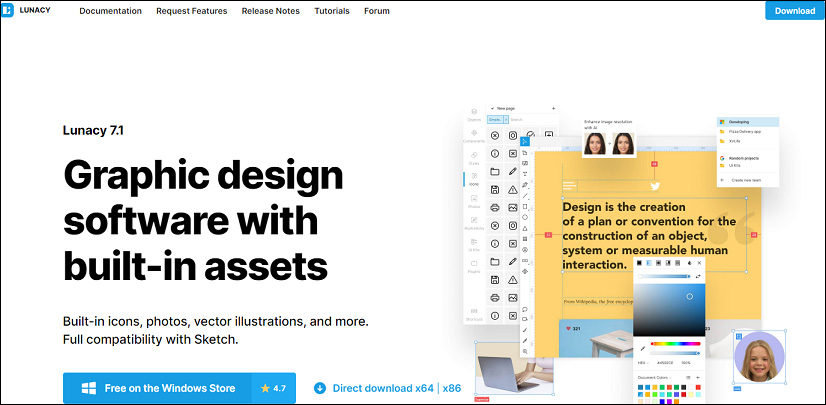 If you are working on a Windows machine and need a lightning-fast and intuitive Sketch alternative free, Lunacy should be another great choice. It's an awesome graphic design software without any bloatware, ads, or spam.
On top of that, Lunacy offers you built-in assets including icons, photos, vector illustrations, and more. Not to mention, Lunacy is fully compatible with Sketch files and it can even process older Sketch files without any issue.
That is not all. Lunacy is exceptionally competent and light on assets. In comparison to Sketch, it's twice faster.
Features:
Free
Twice faster
Full support for Sketch files
Community support: ask for help or help others
Also read: 8 Best Photoshop Alternatives You Must Know
InVision Studio
Availability: Windows and macOS
Pricing: Free
InVision Studio is another top graphic design software that has got huge praise from the designer community. It allows for easy collaboration and developer handoff.
Plus, InVision simplifies the process of design presentation and is far more effective than sending your files using a PDF format.
I would say, if Figma and Lunacy don't cut it for you then InVision Studio will surely take you right home.
Features:
Free and powerful layout engine
Good for collaboration
Simple moderation of content
Integration with Sketch
Numerous Vector tools
Pencil Project
Availability: Windows and macOS
Pricing: Free
Pencil is a standalone Sketch alternative that lets you create diagrams or UI mockups. It doesn't have collaboration/multi-user features. The Pencil Projects' unique mission is to build a free and open-source tool for making diagrams and GUI prototyping that everyone can use.
Features:
Built-in stencils for diagraming and prototyping
Multi-page document with background page
On-screen text editing with rich-text supports
Undo/redo supports
Installing user-defined stencils and templates
Standard drawing operations
Moqups
Availability: Windows
Pricing: Free, or $10 per user per month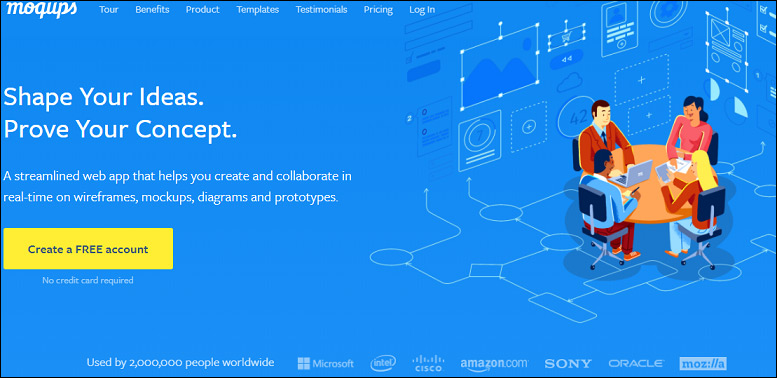 When it comes to Sketch alternative online for Windows, Moqups is just the key. It is a streamlined web app that helps you create and collaborate in real-time on wireframes, mockups, diagrams and prototypes.
Features:
Drag-and-drop page management
Dynamic object editing tools including rulers, grids, and quick-alignment
Functional, interactive prototypes created from your designs or wireframes
Cloud-based team collaboration and sharing
Conclusion
All these tools serve the purpose of being a Sketch alternative in one way or another. I hope this list helps you narrow down the best alternatives for Sketch.