Music transcription software can help you decipher sounds or conduct you how to reproduce music by ear and help you customize your music for accurate playback. In this post, the 4 best musical transcription software programs are recommended to make your work much easier.
MiniTool MovieMaker is one of the best free video editing software if you want to add background music to your videos.
MiniTool MovieMakerClick to Download100%Clean & Safe
Transcribing music refers to the process of converting the music in audio format to musical notation. Expert musicians can do that by the ear, but you can achieve that with the music transcription software. Let's keep on reading to find the favorite musical transcription software in this post!
ScoreCloud (Windows, Mac)
ScoreCloud is one of the best music transcription software. It offers many great features that make it worthy of the top spot. With a clean and straightforward user interface, it appeals to both beginners and experts alike. Also, it is the standout features that make this software so popular.
"Like Google Translate for Music". This is a quote that describes it quite well. Similar to a speech-to-text program, it is capable of listening to what you play, or sing, and converting it into music notation with a simple session setup.
It will automatically save songs on the Internet so that when you edit the score, the changes are synchronized across different devices instantly. You can print and share your transcriptions, arrange and edit the notations, and even collaborate on arrangements with your band and choir.
Transcribe! (Windows, Mac, and Linux)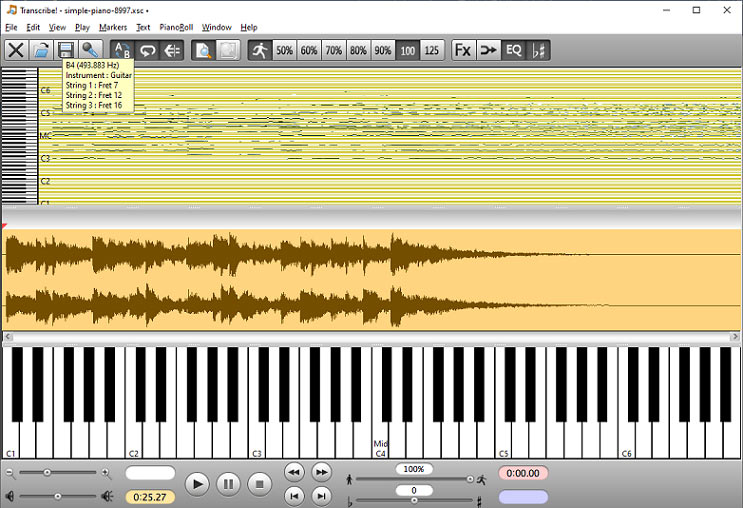 Transcribe! by Seventhstring is one of the most popular music transcription software recommended by many musicians worldwide. It serves as an assistant for people who want to develop and decipher a piece of music from a recording to play or write it.
It has a simple concept: allowing musicians to loop sections of audio files and using an onboard piano keyboard to identify and match notes with accurate and easy transcription.
You can also transpose the audio up or down to match your tone. It even can be used as a vocal remover to extract vocals from songs to create a karaoke file. More amazingly, you can also import video files to isolate the audio while still watching the video simultaneously.
AnthemScore (Windows, Mac, and Linux)
AnthemScore is also a complete music transcription software available. It boasts of many advanced features that are very fascinating for professionals and beginners.
With it, you can move notes to keys to adjust the complexity of the sheet music without changing the pitch. Other important features include the customization for the playback instrument and the option to combine all the corresponding notes into a singular part.
You can also change the time signature, tempo, measures, beats, etc. to adjust any part of the song or the whole song. The visual representation of the spectrum makes it easy to see what you are playing. It also automatically creates MusicXML notes from audio files, allowing you to view and edit them with any standard music software.
MuseScore 3 (Windows, Mac, and Linux)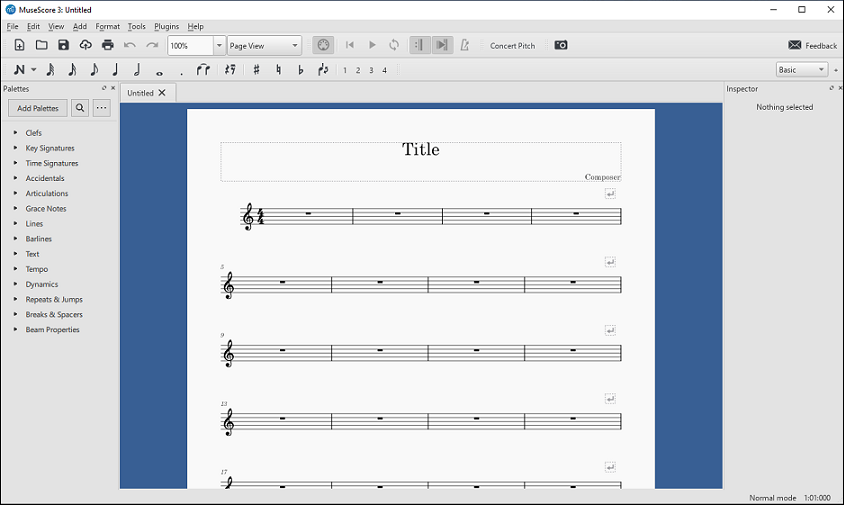 MuseScore 3 is an open-source and free music transcription software. It provides many powerful features that are only available in premium versions of similar software. The clear and pleasant design is also a desirable feature if you prefer basic and simple designs for use.
Using this software, you can use the mouse or keyboard shortcuts to add notes to the sheet music without a MIDI keyboard. Moreover, it can handle many different types of files such as MusicXML files and standard MIDI files from other music recording software.
Conclusion
In this post, we discussed the 4 best music transcription software. Which one do you like most? If you have other great music transcription software want to share, welcome to leave your comments in the below area!