Instagram Story lets users share their photos and remove the photos after 24 hours. You can add music, create a poll, and make a photo collage. In this post, you will know 3 different ways to make a collage on Instagram Story.
Do you want to add multiple photos to Instagram Story? If yes, then you've come to the right place. This post is about how to make a collage on Instagram Story and offers you three different ways to create an Instagram photo collage.
If you also want to make an Instagram photo slideshow, you can't miss the best watermark-free photo slideshow maker – MiniTool MovieMaker.
MiniTool MovieMakerClick to Download100%Clean & Safe
Make An Instagram Collage Using Stickers
The first method is using the Stickers feature. In addition to creating a photo collage, the Stickers feature also allows you to add music, GIFs, captions, links, quiz to your story.
Let's take a look at how to add multiple photos to Instagram Story using Stickers.
Step 1. Open the Instagram app and click Your Story.
Step 2. Take a photo or select a photo from your camera roll. This photo will be used as the background of the photo collage.
Step 3. Then tap the Sticker icon at the top of your screen. Click on the photo sticker and select the photo you want to add.
Step 4. Resize the photo, adjust the photo's position by dragging it. To add other photos, tap on Stickers and choose photo sticker to add photos.
Step 5. After adding the photos to your story, you can edit the story as you like. Once finished, click on Your Story to share this photo collage with your followers.
Make An Instagram Collage Using the Layout Mode
The second method is using the Layout mode. The Layout mode offers you various layout templates to choose from.
Here's how to use Instagram Layout to make an Instagram collage.
Step 1. Click on Your Story or swipe right to open Stories.
Step 2. At the bottom of the screen, swipe right until you see the LAYOUT option.
Step 3. Select a layout template and click the plus icon to import the photos you want to use.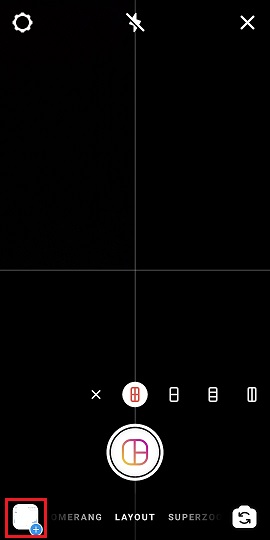 Step 4. Click the checkmark icon to confirm the operation.
Step 5. When you are done, share your story on Instagram.
Make An Instagram Collage Using the Third-Party App
The last method is using a third-party Instagram collage app. There are lots of Instagram collage apps on the web. Here I strongly recommend Collage Maker, PicCollage, Unfold, and PhotoGrid. These apps are available for both Android and iOS devices.
They offer tons of collage templates, filters, and grids that help you make wonderful Instagram collages and get more followers on Instagram.
To learn more about Instagram collage apps, you can read this post: 5 Best Instagram Collage Apps to Create Engaging Collages
Conclusion
Now follow the above methods to make a collage on Instagram Story to engage your followers! If you have any other suggestions, share them in the comments section below!