Korean manhwa, also called South Korean comics, is gaining popularity on the Internet. If you're a fan of Korean drama, then you may know that many K-dramas are adapted from Korean manhwa. Where to watch Korean manhwa? This post will tell you the answer.
Many popular Korean dramas are based on webtoons such as True Beauty, What's Wrong with Secretary Kim, Itaewon Class, Cheese in the Trap, Hell is Other People, and My ID is Gangnam Beauty. After watching these dramas, you decide to read the webtoons. So, where to read Korean manhwa? In this post, I will offer you the 6 best places to go! (To make a video or GIF from pictures, try MiniTool MovieMaker.)
Top 6 Places to Read Korean Manhwa
Tapas
Webtoons
Lezhin Comics
Daum Webtoon
Tappytoon Comics
Toomics
#1. Tapas
Tapas is a great place to read Korean manhwa, which holds tens of thousands of webtoons and novels. You can explore manhwa by various genres like Fantasy, Action, Drama, Comedy, BL, Horror, etc. Some webtoons on Tapas are available for free but most of the webtoons require payment.
Tapas is compatible with web browsers, iOS, and Android.
#2. Webtoons
Thousands of Korean manhwa on Webtoons are free to read. But it only allows users to read a certain number of chapters per day without payment. If you can't wait, you can unblock chapters with Coins. On Webtoons, you can read True Beauty, Cheese in the Trap, Tower of God, and more. It's available for browsers, Android and iOS.
#3. Lezhin Comics
Another place to read Korean manhwa is Lezhin Comics. It mainly offers genres like Romance, GL, BL, Mature, Action, and Fantasy. The webtoons are great, but the coins are more expansive than other manhwa platforms. It allows you to explore Korean comics on your computer, Android phone, or iPhone.
#4. Daum Webtoon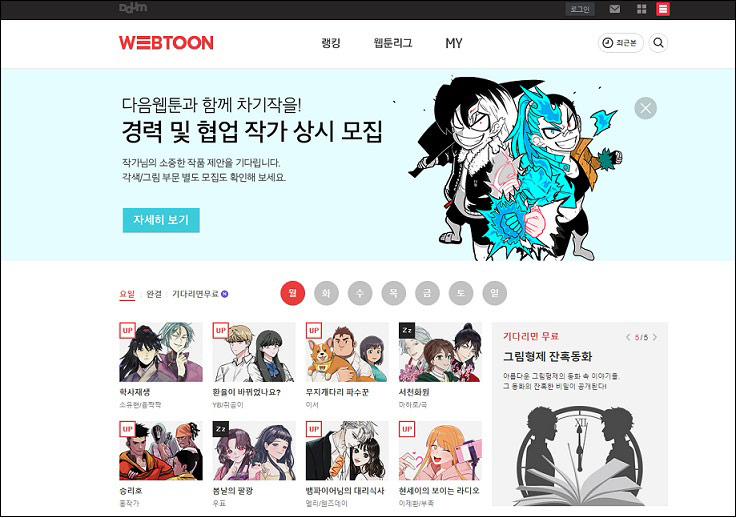 Daum is a Korean manhwa platform developed by Daum Corporation, offering over 500 completed series. Its interface is simple and intuitive, which makes it easier for you to find and browse your favorite Korean manhwa. You can read manhwa in web browsers or on your mobile phone. Webtoons are only available in Korean, there's no English language offered.
#5. Tappytoon Comics
Except for free webtoons, Tappytoon Comics also offers a large number of exclusive Korean manhwa. Unlike Daum, Tappytoon Comics is nice for foreigners. The webtoons are available in English, French, and German. It works on Android and iOS. Also, you can read webtoons directly on its website without installing software.
#6. Toomics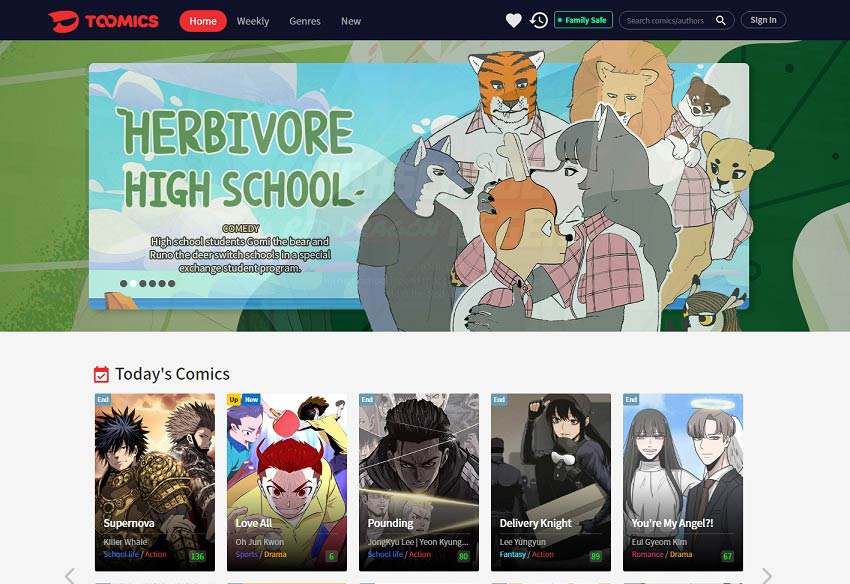 Toomics provides you a wide range of Korean manhwa. All of these webtoons come in about 10 languages such as Korean, English, Chinese, German, Spanish, French, Japanese, and so on. The VIP Membership only costs $8.99/month.
10 Best Korean Manhwa that You Should Read
Here recommend 10 best Korean manhwa to you.
Tower of God
Bastard
The Sound of Your Heart
The Gamer
The Breaker
Solo Leveling
Noblesse
A Business Proposal
Something about Us
True Beauty
Conclusion
All the above Korean manhwa places are safe and legal. Which Korean webtoon sites you often use? Leave your comments below!