Chances are that you find that posts you want to see are deleted. Are those deleted items gone forever? Can I see deleted posts on Reddit? How to see deleted posts on Reddit? The answers will be offered in this post. Read on to find the solutions to view Reddit deleted posts.
Reddit is a treasure trove of information with over a billion page views per month. If you are curious about how to see deleted posts on Reddit, read on to find the solutions. Besides, if you also need a tool to make short videos and post on Reddit, you can try MiniTool MovieMaker.
How to See Deleted Posts on Reddit with Unddit?
Unddit (https://www.unddit.com/) is one of the quickest solutions to view deleted Reddit posts. By adding a bookmark to your browser, you can revive dead comments and threads with the click of a button. The following is how to see your deleted posts on Reddit with Unddit.
1. Go to Unddit website.
2. Drag the red Unddit button to your bookmarks bar or Right-click and choose Bookmark this Link.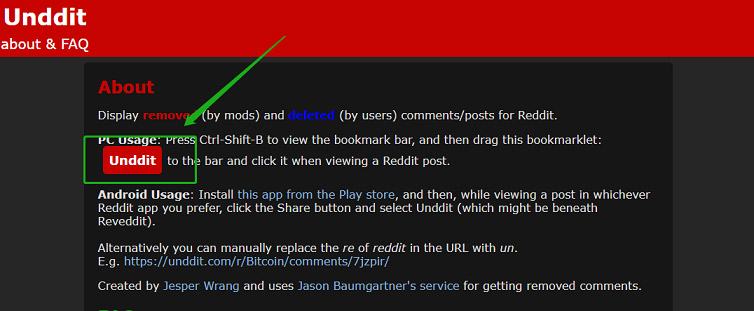 3. Navigate to a particular post or Reddit thread where you'd like to see the deleted comments. Click the bookmarklet.
4. On the archived page, Unddit will show a list of all removed Reddit comments from that post.
Also read: How to Download Reddit Videos with Audio – Solved
Unddit can show all bot-, mod-, and user-deleted comments. Deleted comments shown in a red box were deleted by bots or mods, and comments in a blue box were deleted by users.
How to See Deleted Posts on Reddit with Reveddit?
Reveddit (https://www.reveddit.com/) is also a powerful tool for viewing and tracking deleted content on Reddit. However, it doesn't show user-deleted content (only displays moderator-deleted or bot-deleted content). You will be notified when your posts or comments are deleted, which allows you to contact the mods and find out why they deleted them. This is handy if you've been shadowbanned and don't know it.
To use Reveddit:
1. Head to the Reveddit website.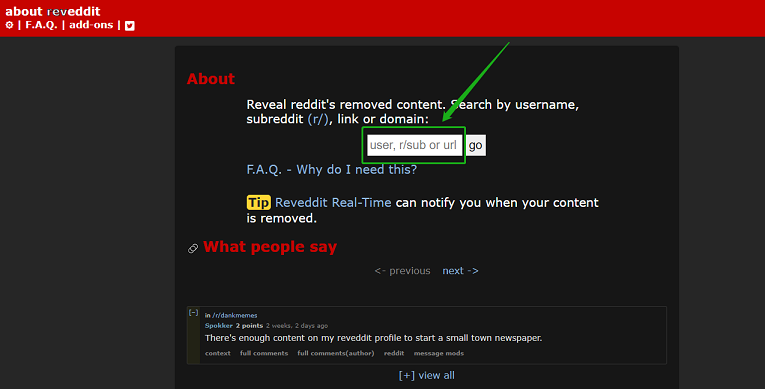 2. Enter any subreddit, post title, or a Redditor's username in the search bar and click go.
3. Reveddit will display a list of posts that have been deleted, allowing you to navigate the deleted posts much like navigating Reddit normally.
Alternatively, you can use the Firefox Browser Add-Ons page or the Chrome Web Store page and search for "reveddit real-time" on that page. While you install the extension, you will start receiving a popup and notification about the deleted posts on Reddit.
How to See Deleted Posts on Reddit with Wayback Machine?
If you do not want to use bookmarks, Wayback Machine (https://web.archive.org/) is a great option for you to find out the Reddit deleted posts. In order to use Wayback Machine to view deleted Reddit posts, you can go through the following steps:
1. Open the Wayback Machine page.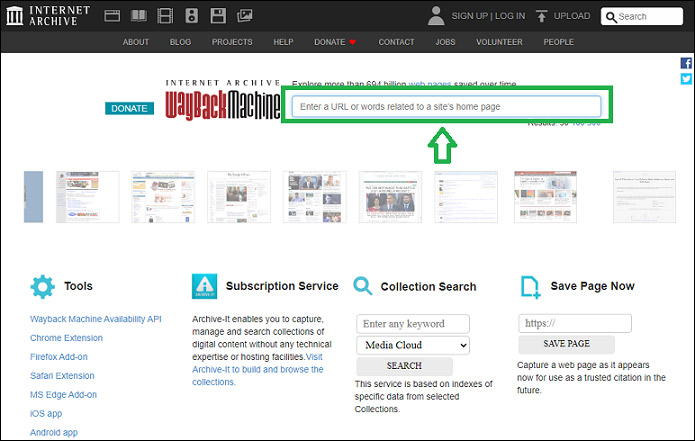 2. In the search bar, insert the URL for a particular Reddit post or the subreddit of the post.
3. The website will display a calendar interface with blue circles indicating when the Wayback Machine crawled the page. On the original post, note when someone deleted the comment. Then find and hover over that date and select a time point. You can decide the date you want to check.
4. Click on any of the dates will lead you to a saved version of the Reddit post for that day. You will see a historical version of the specific post with deleted comments and even previous edits.
You may also like: How to Change Reddit Username on Android/iPhone/Windows.
Conclusion
After reading this post, you have learned 3 solutions on how to see deleted posts on Reddit. Just try the above-mentioned methods to view deleted Reddit posts!