Many people may wonder can I play music on Discord while playing games. Of course, you can. This post will offer you a detailed guide on how to play music on Discord. (To edit recorded video, try MiniTool MovieMaker)
Discord is an instant messaging platform that allows you to communicate with video calls, text messaging, and voice calls. It works on Windows, macOS, iOS, Android, and Linux. If you want to listen to music on Discord, you can add music bots to Discord. Let's see how to play music on Discord with music bots.
How to Play Music on Discord
Option 1. On computer
Here's how to play music on Discord.
Step 1. Visit https://top.gg/ website in your web browser.
Step 2. Next, click on the Music tag to explore Discord music bots.

Step 3. Find a Discord music bot you're interested in and click View to learn more about this bot, like features and commands. Then tap on Invite to install the bot.
Step 4. On the login screen, log in to your Discord account and click Select a server to select a server that you want to install the music bot. Click on Authorize to go on.
Step 5. Tap on I'm not a robot to add the music bot to your Discord server.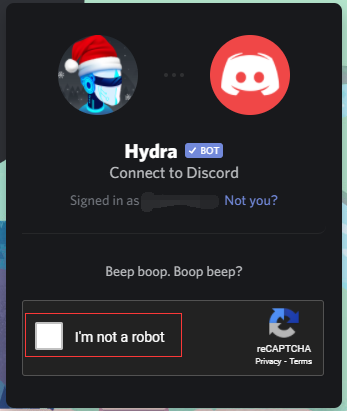 Step 6. Enter the Discord website or open the Discord app on your computer.
Step 7. Click on the profile picture of your server. On the #welcome-an-rules window, you will see the related commands listed here.
Step 8. Then type the command like ".setup" to create a songrequest channel. Then connect to a voice channel.
Step 9. Copy the song or playlist URL and paste it into the box. Or type the song name in the box. Then hit the Enter key and it will play the song automatically.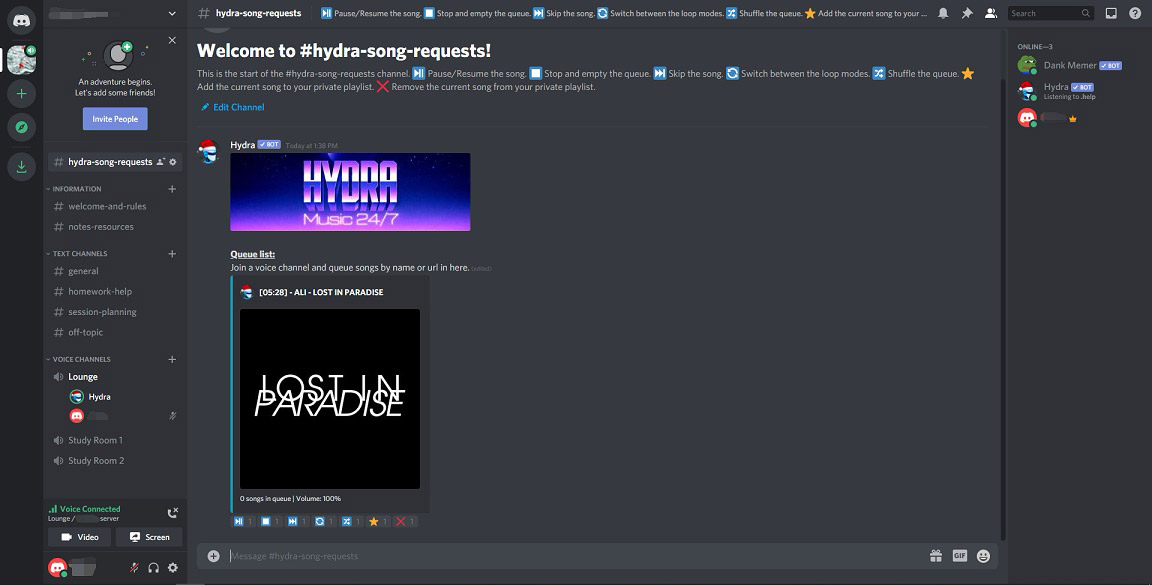 Related article: How to Add People/Invite Friends on Discord Server – 4 Ways
Option 2. On phone
Take the steps below to learn how to play music on discord bot.
Step 1. Follow steps 1-5 of Option 1 to install a music bot.
Step 2. Launch the Discord app on your phone.
Step 3. Tap on the menu button at the top-left of your screen and choose the server you installed the music bot.
Step 4. Tap on a voice channel to join it and go to #general. Then paste the link of the song or song playlist in the dialogue box.
Step 5. Then you can enjoy the music.
You may also like: Discord Stops Working in Game? Here Is How to Fix the Error!
Now, you must know how to play music on Discord. Next, I will show you serval Discord music bots that you can use to enjoy music on Discord.
Hydra: It lets you play music from various music sharing sites like Spotify, YouTube, SoundCloud, and many more.
Rhythm: This Discord music bot supports playing music in high quality from multiple resources like YouTube, SoundCloud, Twitch, Bandcamp, etc.
Groovy: Groovy bot allows you to stream music from SoundCloud, Spotify, YouTube, Deezer, etc. The Premium plan gives you the option to control volume, use audio effects, and more.
FredBoat: It delivers high-quality music from various music websites to your Discord server. Besides, it can shuffle and repeat your playlist.
Conclusion
That's all about how to play music on Discord. If you have any questions about this post, please tell us in the comments section.