The Instagram highlight cover placed right below the bio section in your Instagram Profile can grab your viewers' attention. It also makes your Instagram Highlights look stunning and directs the viewer to check out your Instagram stories.
This post by MiniTool MovieMaker shows you all the steps about how to make Instagram highlight covers. There are a few simple things you can try.
Tips:
MiniTool MovieMaker is a free video editing software that lets you make cool Instagram videos out of multiple photos.
MiniTool MovieMakerClick to Download100%Clean & Safe
How to Make Instagram Highlight Covers?
You can use your favorite images to create your highlight covers on Instagram. If you want to make a good first impression on your followers, you can try the following guide to learn how to make highlight covers on Instagram.
Step 1. Just go to the official website of Visme and register for a free account or log into your account.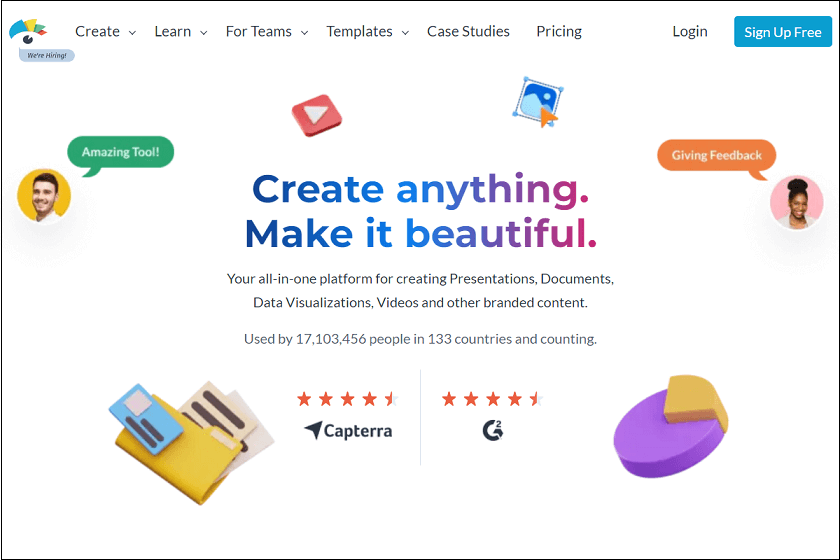 Step 2. Navigate to the main Visme dashboard and click on Custom Size in the upper right corner of the screen. Then, enter the Instagram Story image dimensions, like 1080 x 1920 px, and click Create.
Step 3. Find your favorite Instagram Stories Highlights icons on the Internet and save them in your local folder.
Step 4. Go back to the Visme, locate the My files in the left menu, and click Upload to select the icons you want to upload.
Step 5. Click on the icon image. If the icon is not visible on the canvas after uploading, it may be because the icon is a white line on a transparent background. This icon will appear if you apply another color to replace the white background color.
Step 6. Right-click your image and select Background. The quick-access background panel will be displayed in the upper left corner of the screen. Next, you can choose a background color or add the color in the HEX code field.
Step 7. Give your project a name, click the Download in the upper right corner of the screen, choose the file format (Either PNG or JPG is fine), and then click the Download button to save your cover to your local folder.
Do this for the remaining cover designs.
Tips:
Tip: It is very important to make sure that Story Archive is enabled on your Instagram account. This is for when you want to go back and see your old Stories on Instagram without downloading them to your mobile phone.
Step 8: Edit the current highlight to add new covers.
Head to your Instagram profile.
Click the highlight whose cover art you want to change.
Click on More in the lower right corner of the screen.
Click on Edit Highlight.
Click on Edit Cover.
Select the image icon to access your phone's photo gallery.
Choose the cover you would like to add.
Click on Done three times.
Repeat this for each story if you want to add a cover to.
Look! Now, you must know how to build Instagram highlight covers. Meanwhile, many Fortune 500 companies use them to create brand designs with a huge impact.
Adobe Spark also offers pre-made covers that can help you design unique Instagram highlight covers. You can read this post to know more about how to make a great cover photo: 6 Best Online Facebook Cover Photo Makers.
Instagram Highlight Covers and Icons Tips
After reading the steps on how to make Instagram highlight covers, you can learn effective techniques to help you run a successful business.
Display the Beauty of Your Brand
Your brand needs to have its preferred colors, fonts, emoticons, and background color. These elements can catch the viewer's attention at a glance.
Moreover, remember that less is more. After all, those portholes are quite small. Clarity is crucial.
Do One Thing Well
You can do your best to make one thing perfect. Like naming your brand, it can sound refreshing or make people want to explore the deep meaning behind it.
The New York Times is a good example. It takes the Stories quite literally. They fill their highlights with in-depth but readable primers on complex political topics. They also create entertaining, easy-to-read stories on engaging themes.
Make the Viewers into Clients
If your Instagram for a business account has more than 10,000 followers, you can open the eyes of your viewers to your best shoppable stories and fresher content. That's one of the perks of it when you master how to make Instagram highlight covers.
Emphasize the Most Important Stories
Consider what matters most to your target audience. What are they looking for? How is this season's collection? What's on the agenda for today? Or something that will work in the long run?
Some museums, for example, give priority to potential visitors. On its highlight reels, it always displays a helpful guide to the current exhibition.
Bottom Line
That's all about how to make Instagram highlight covers in this post. Meanwhile, you have learned some effective Instagram highlight covers and icons tips to help you manage a prosperous business.