GarageBand is a digital audio workstation for macOS operating system that allows you to create music. However, some of you use the Windows operating system. Luckily, there are many equally useful GarageBand alternatives for Windows on the market.
Let's take a look at the functions of these GarageBand alternatives for Windows related to making music.
If you want to insert the music you have made into a video or slideshow as the background music, MiniTool MovieMaker is undoubtedly a great choice.
LMMS
LMMS is an open-source, community-driven, cross-platform and free GarageBand alternative for Windows.
Using it to make music couldn't be easier for you. The reason is that you only need to create melody and beats, synthesize and mix sounds, arrange samples, and leave the rest to the various instruments, effect plug-ins, presets, samples, VST, and SoundFont it provides for you.
Its core functions are very rich and easy to operate. In a simple interface, you can perform a variety of operations on songs, including sorting, creation, mixing, and automation. To play notes, you only need to use MIDI or the typing keyboard.
Moreover, you can use Beat+Bassline Editor to integrate the soundtrack of the instrument and the Piano Roll Editor to adjust the mode, chords, melody, and notes. You can also import MIDI files and Hydrogen project files.

Mixcraft 9 Home
Mixcraft 9 Home is the best GarageBand alternative for Windows that has won numerous awards from many respected magazines. Its intuitive interface, fast sound engine, surprising pitch conversion and time stretching technology, and universal support for third-party plug-ins and audio can help you complete music creation in the shortest time.
It has a huge loop library to provide you with more than 7,500 professionally produced loops, music beds, sound effects and percussion samples covering a large number of genres.
Additionally, it supports recording an unlimited number of audio and virtual instrument tracks. Editing, cropping, fading in and out of sound, adding a lot of effects and automation, and mixing and mastering your project into MP3, WAV and other formats are all allowed.
Music Maker JAM
If you are a beginner with no experience in music-making, Music Maker JAM is undoubtedly one of your best GarageBand alternatives. Its clear and easy-to-use interface, powerful features and AI support pave the way for your music creation.
On the one hand, you can choose to get inspiration from a large number of loops and samples of any type, that is, drag and drop the sound into the mix and adjust it to make it work perfectly in your repertoire. On the other hand, you can record your own vocals, quickly outline a part or create an entire song with one click.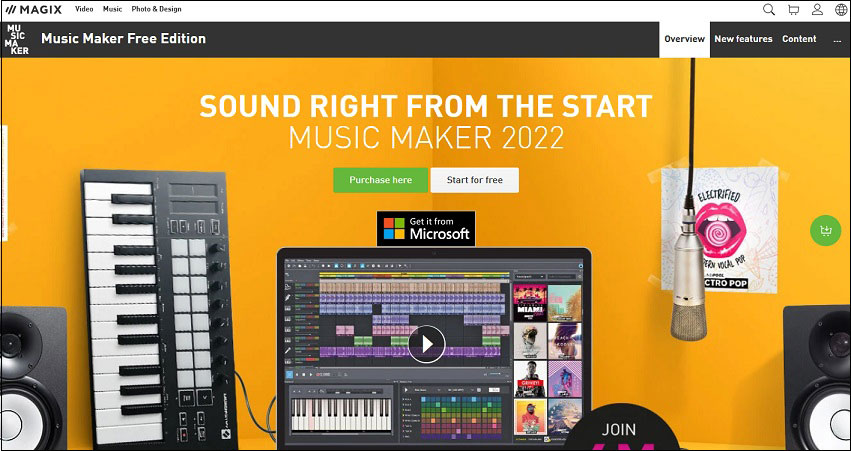 Reaper
Reaper is a powerful music production app that includes editing, dealing, mixing and mastering tools, MIDI recording, and a set of multi-track audio. At the same time, it supports a wide range of hardware, plug-ins and digital formats. You can also fully write, extend and modify scripts.
You can find Reaper in business, live recording, education, scientific research, home, broadcasting, sound design, game development, etc., because of its complete features and famous stability.
In addition, it supplies you with a 64-bit internal audio processor, comprehensive MIDI hardware and software support, hundreds of studio-quality effects for processing audio and MIDI, and built-in tools for creating new effects.
Conclusion
For those of you who like the creativity of GarageBand, these GarageBand alternatives for Windows are good choices because there are many attractive things in them worthy of your exploration.