Are you trying to find some inspiration? What makes Snapchat so popular? The fact that it aims to convey fleeting thoughts, emotions, and feelings without special meaning makes it unique. To get an impressive custom Snapchat logo, visit this post.
There are more than 100 million users on Snapchat who have created around 9 billion video clips and get 4 billion video views every day. For beginners, MiniTool MovieMaker is the best option for video editing. With its user-friendly interface and rich features, you can choose a suitable movie template and combine transitions, effects, animations, and texts to produce outstanding videos. Once you've edited the video with it, you'll have everything you need to complete your dream project.
MiniTool MovieMakerClick to Download100%Clean & Safe
The Snapchat Logo: Why Is There a Ghost?
In an interview, Evan Spiegel, the CEO and co-founder of Snapchat, claimed that he was inspired to come up with a company logo idea in his room. On that day, he sketched a ghostly silhouette. It was formed when it was given the name Picaboo.
The Snapchat logo is highlighted by a yellow square that frames the silhouette of a white ghost. The images you post on your Snapchat account don't last forever. It allows you to view Fickle photos for a limited time before they disappear. In addition, each of the photos has a fixed duration with a specific time for the user. The photos in this app are very similar to how ghosts appear and disappear.
The photos on this platform only exist online for a short period before disappearing without being found by any users. As a result, the logo of this social network is related to the meaning of ghosts.
Where Can I Get a Custom Snapchat Logo Icon?
The following four custom Snapchat logo designers are provided in this post. Make your own Snapchat logo to give it a unique look!
DesignCrowd
DesignCrowd is an online platform that helps connect 500,000 freelance graphic designers and design studios to provide logo, website, print, and graphic design services. Using DesignCrowd, you can start creating your own Snapchat logos to use as visual filters when posting photos and videos. These logos may resemble the likes, views, and various other statistics on Instagram.
On average, a logo project is completed within a few hours.
The logo designs start low and have options for every price range.
You will receive a large number of logo ideas from independent logo designers who collaborate on your project, and you simply need to pick the best one.
Professional freelance logo designers from all over the world are waiting to create the ideal logo for you.
Flaticon
This designer is one of the best for Snapchat logo custom design because it gives you a plethora of options for creating a custom logo based on your preferences. You can create professional-looking logos and download 300+ premium logos in PNG, SVG, EPS, PDF, and JPG formats using its easily customizable templates.
44 Custom Snapchat Logo Icons in Flaticon:
2 Black icons
35 Color icons
4 Gradient icons
10 Outline icons
11 Hand Drawn icons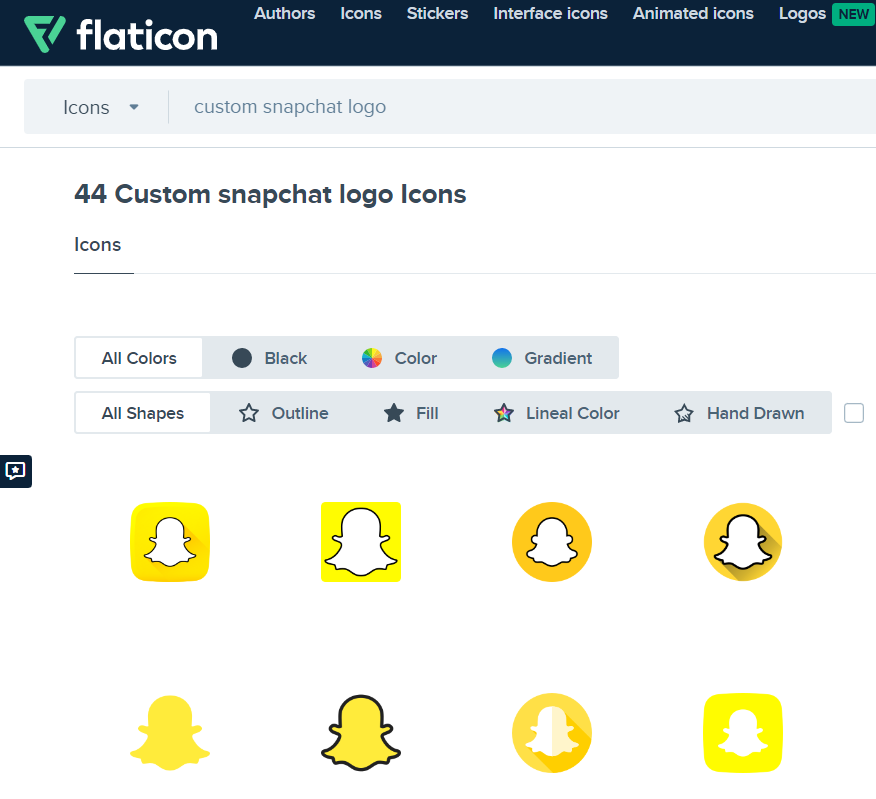 IconScout
IconScout is a great resource for modifying and creating any logo you can imagine. IconScout is supported by a passionate community of designers that are looking for high-quality icons. It offers a simple way for people to trade, share, and exchange icons. There are 165 free and premium Snapchat logo icons in Glyph, Line, Flat, Color Outline, Circle, Duotone, Isometric, Gradient, and Doodle design styles. You can also personalize them to fit your business's branding.
Turbologo
Turbologo is a Snapchat logo builder that offers many innovative concepts to help you create logo designs online. You can use editable templates to build the perfect Snapchat logo. The library of logo design concepts offered by Turbologo is accessible without charge.
The Snapchat Custom Logo Design Guide:
Selecting a Snapchat Logo Template
For inspiration, you can go through the collection of expert Snapchat logo designs.
Adapt the Snapchat Logo to Your Style
You can modify the icons, colors, fonts, and other elements as you choose.
Save the Files for Your Snapchat Logo
Save your own Snapchat logo image after you have a design you like.
Conclusion
Thank you for taking the time to read this post on the four custom Snapchat logo designers. You may select the one that best meets your requirements. Try one and you will find your logo art is of higher quality than ever before.