AVI files are often larger and occupy more space than MP4. If you need to save space, you can reduce AVI files with AVI compressors or convert AVI to MP4 with a video converter like MiniTool MovieMaker. In this post, I'll tell you how to compress AVI files with 4 best AVI compressors.
There are 3 effective ways to reduce AVI file size: convert AVI format, remove unwanted portions, and adjust the video parameters. Here suggest you to the following AVI compressors to compress AVI files without losing quality.
Top 4 AVI Compressors You Should Try
VideoSmaller
Your Compress
Online Converter
MiniTool MovieMaker
VideoSmaller
VideoSmaller is an online service for video compression. It allows you to compress video files in AVI, MP4, MPEG, and MOV format. This AVI video compressor works in any web browsers and the maximum upload file size is 500 MB.
Follow the steps to compress AVI video online.
Step 1. Enter the VideoSmaller website in your browser.
Step 2. After getting the homepage, click on Browse… to upload the AVI file.
Step 3. Here you can check the Use low compression level (best quality) box, scale video with, or mute the AVI video. Tap on Upload Video to continue.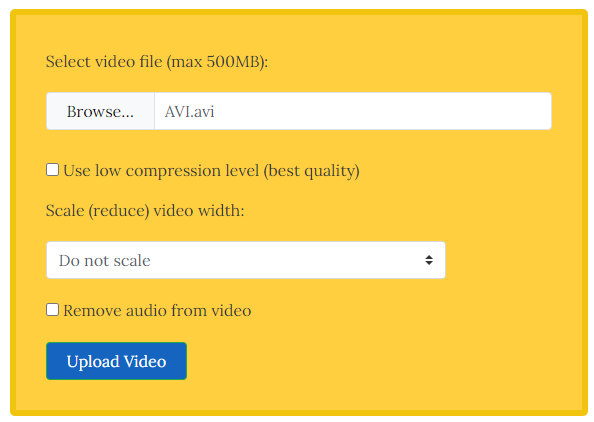 Step 4. Then it will take some time to compress the AVI file. Once done, download the compressed AVI video from the web.
You might be interested in WAV Compressor – 3 Methods to Compress WAV file.
Your Compress
Your Compress is another best AVI compressor that can compress AVI online free without limitations. Besides compressing AVI files, it's also capable of compressing MP3, MOV, MP4, JPG, PNG, PDF, GIF, etc.
Here's a quick guide on how to compress AVI files with Your Compress.
Step 1. Click Select file… to choose the wanted AVI file after entering the Your Compress website.
Step 2. Press on Upload File & Compress to upload AVI video and perform the AVI compression.
Step 3. When the compression is over, download the AVI file to the browser.
Online Converter
Online Converter is a versatile file converter supporting converting video, audio, image and so on. It also can be used to compress video, audio and image. The supported video file formats are AVI, MP4, MPG, MKV, WMV, VOB, etc. The upload file size is limited to 200 MB.
Below are the detailed steps to compress AVI online.
Step 1. Open the Online Converter website and go to Video Converter > Compress Video.
Step 2. Upload the AVI file to Online Converter and click on Compress.
Step 3. Click on Download Now to get the compressed AVI video.
MiniTool MovieMaker
The last AVI compressor I'd like to recommend is MiniTool MovieMaker. With it, you can reduce video size by cutting, changing video format, video bitrate, or video resolution.
This guide will show you how to compress AVI files by changing video bitrate or video resolution.
Step 1. Download and install MiniTool MovieMaker.
MiniTool MovieMakerClick to Download100%Clean & Safe
Step 2. Launch it and import the AVI file.
Step 3. Add the AVI file to the timeline.
Step 4. Optionally, you can split, cut, or trim the AVI video.
Step 5. Go to Export to get the Export window.
Step 6. Select the AVI format from the Format box and click the Settings button.
Step 7. From the Settings window, you can choose the desired video bitrate or video resolution and save changes.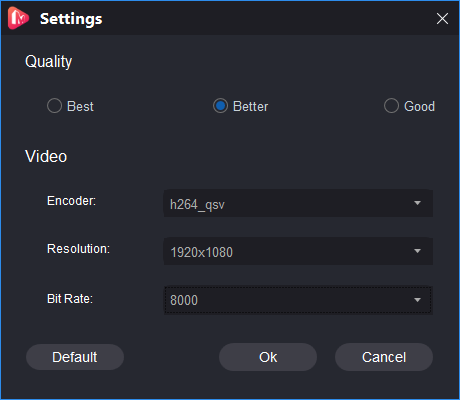 Step 8. Export the compressed AVI video.
Conclusion
That's all the methods of compressing AVI video. If you know any other method to compress AVI files, please tell us in the comment section.