You may need to colorize your photos in your life or work. There are plenty of colorization apps on the market today. This article selects the following four photo colorizers for you that can intelligently convert your black and white photos into color photos.
Turning black and white pictures or videos into color pictures or videos is a meaningful and interesting thing. Let us learn about the characteristics of these colorization apps.
If you want to make a video with photos, MiniTool MovieMaker is highly recommended to you.
MiniTool MovieMaker
MiniTool MovieMaker is a free colorization app for Windows.
MiniTool MovieMaker's effects have four styles at present, they are Artistic, Common, Instagram-like and MotionBlur. You can choose the suitable effect to realize your desire to change the color of your pictures or videos.
Moreover, you can rotate the pictures or videos, adjust the contrast, saturation and brightness of the pictures or videos and add text to the pictures or videos.
It is worth noting that it only supports exporting videos, not images.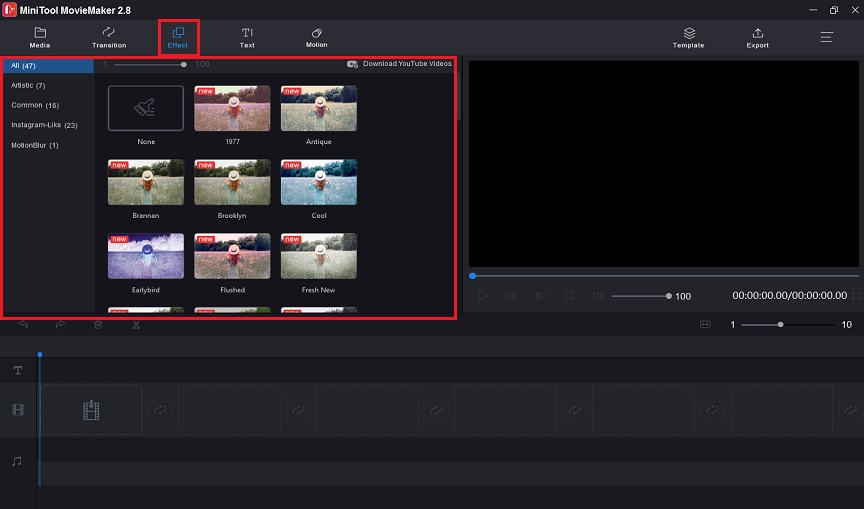 Photoshop
Photoshop is a famous colorize app for pc to help you deal with your photos. If you have some experience in photo editing, it is definitely a good choice for you.
Photoshop provides you with a series of powerful coloring tools, including filters, tools for selecting noise, dust, scratches, radius and threshold, layer masks, unlimited layers and brush tools to help you customize photos.
In addition, you can make your pictures more expressive and artistic through retouching and mixing functions. You can search, access and synchronize your personalized brushes, swatches, gradients, patterns, styles and shapes on any computer.
At the same time, you can also invite others to edit your cloud documents. Photoshop supports multiple languages, cloud storage and various image formats
The only drawback of Photoshop is that you need to do too much manual work and spend too much time on photo editing.
Luminar
Luminar is one of the best colorize apps with many professional editing functions for Windows and Mac.
The remarkable thing about Luminar is that it applies artificial intelligence to photo processing. Luminar allows you to get awesome photos in the fastest way. Because its AI recommends the perfect templates for your photos, you don't need to spend hours choosing the templates.
The color photos or black and white photos created with Luminar are of high quality. Of course, you can also color the photos manually to further improve your photos in terms of details.
Whether you are an experienced photo editor or a novice photo editor, you can get the results you want without barriers.
CODIJY
CODIJY is a special-purpose photo colorizer for Windows and Mac.
CODIJY's magic stroke function adds, deletes and protects photo colors by drawing simple strokes and outlines. For portrait pictures, it also has a dedicated library, which contains a palette of different portrait elements, such as skin color, eyes, lips, hair, clothes, etc.
CODIJY can capture matching colors and gradient effects from your color images. At the same time, it provides thousands of selected colors and gradient templates for photos of different themes.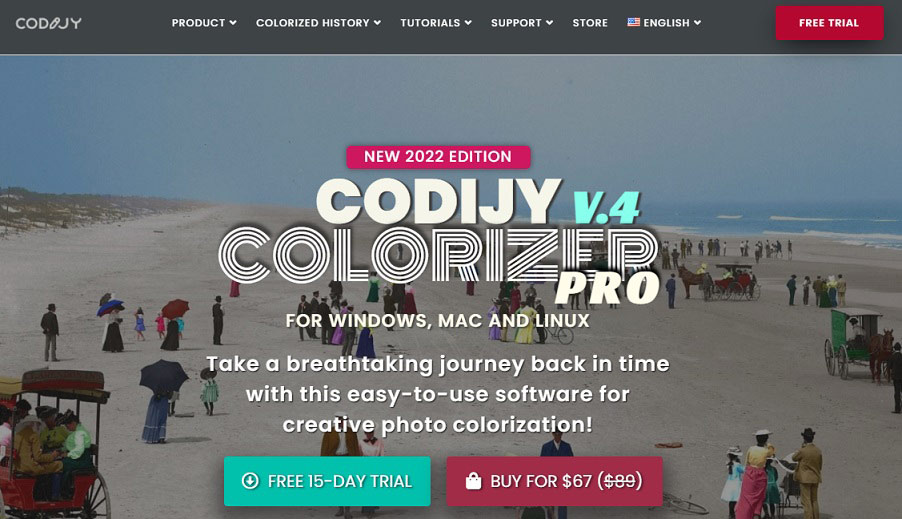 Conclusion
All in all, the above several colorization apps make the conversion between black and white photos and color photos easy. After reading this post, you might as well try them if you like.