The color splash photo editor allows you to apply color to black and white photos and blend colors to highlight the main parts of your photos. If you want to make your photos have a sharp contrast in color, there is no doubt that these color splash photo editors are your best choices. This post will give a detailed introduction to four color splash photo editors.
Let's take a look at the characteristics of these color splash photo editors.
If you want to make a video or slideshow with your color splash photos, MiniTool MovieMaker is a great choice.
iPiccy
iPiccy is an online and free color splash photo editor, which has three main tools.
In addition to helping you complete the color splash, it can crop, rotate, adjust the photo size and automatically adjust your photos with one click. Moreover, iPiccy also provides you with more than 100 photo effects and professional photo retouching tools.
A large number of collage templates are also included, allowing you to make beautiful photo collages. Online graphic design tools, text, stickers, masks and stunning text effects allow you to create unique designs for your photos.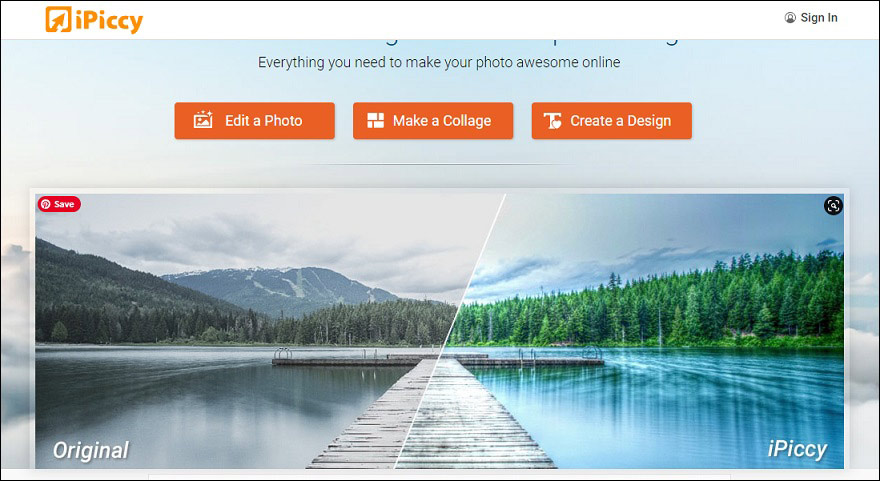 Fotor
Like iPiccy, Fotor is also an online and easy-to-use color splash photo editor, but it only has a three-day free trial period. It can be said that it is a professional color splash photo editor because of its complete color splash function.
It provides a variety of color splash options, color themes and drawing tools for you to freely edit your photos. In short, you can not only use it to make your photos more prominent, but you can also use it to change the colors of your photos at will.
Color Splash
Color Splash is a color splash photo editor for iPhone that costs you $1.99. Color Splash is very convenient to use because its multi-touch user interface is intuitive and responsive.
You can choose only the details you need to keep in color, and then convert the rest to black and white to make your photos more dramatic.
It supports processing multiple sessions, undoing any number of strokes and hiding the toolbar in full-screen mode. Its alternate view mode allows you to more easily view and adjust the boundary between color and black and white areas. Color Splash also provides four different brushes with hard edge, soft edge, opaque and transparent.
You can share your edited photos to Twitter or Flickr, send them via email, or save them to your Dropbox.
Color Splash Effect
Color Splash Effect is a free color splash photo editor for Android.
Not only can you use it to edit, zoom in or out, crop and rotate photos, but you can also add text to your photos. It contains special effects such as black and white, sepia, grayscale, sharpening, blurring and so on. You can also adjust the color temperature, reflections, mirror effects, and transition effects.
Additionally, it also provides beauty tools to remove wrinkles and optimize skin tone, photo effects, picture-in-picture cameras, and more than 50 beautiful and high-quality photo frames with bright colors to make your photos look more perfect.
It is worth mentioning that it can achieve color splash without an Internet connection, and save your edited photos in JPEG format.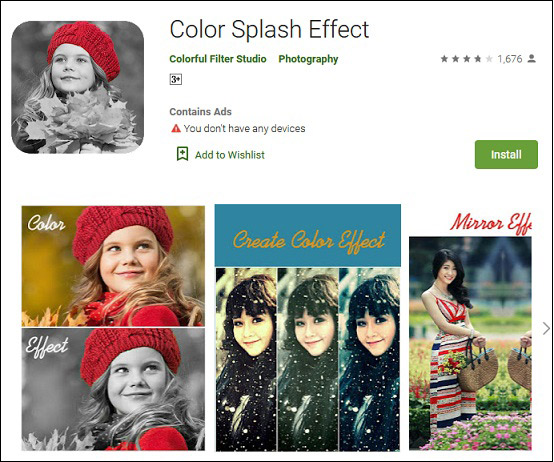 Conclusion
In general, you can easily achieve color splash on almost all devices, but you need to spend time and patience to complete it.
If you are interested in the above color splash photo editors, download any of them and have a try.