Designing an attractive cover for your CD can be an enjoyable activity if you are a big fan of CDs. You can resort to the CD cover design software to make your work much easier. Then what is the best CD cover design software? Read this post to find the answer!
If you are also looking for free video editing software to make a music video or edit video footage, you can try our top recommendation - MiniTool MovieMaker.
The CD cover design software can help you design and create attractive CD covers with professional looks. You can also customize the CD cover with your own images and text. Let's move on and know the features of these best CD cover design software programs.
Nero Cover Designer
Nero Cover Designer is one of the best software for CD cover design. With this program, you can add custom or original covers to your CD, DVD, and Blu-ray disc collection for completely free.
To create a cover design for your CD, you can import a picture and then change the color and theme. It comes with a wide variety of templates and graphics. It includes different design templates, such as headers, credits, words, cover pages. After you finish the cover design, just download and save your finished design as a JPEG file.
Recommend post: Top 5 Free Album Cover Makers You Should Know
Disketch Disc Label Software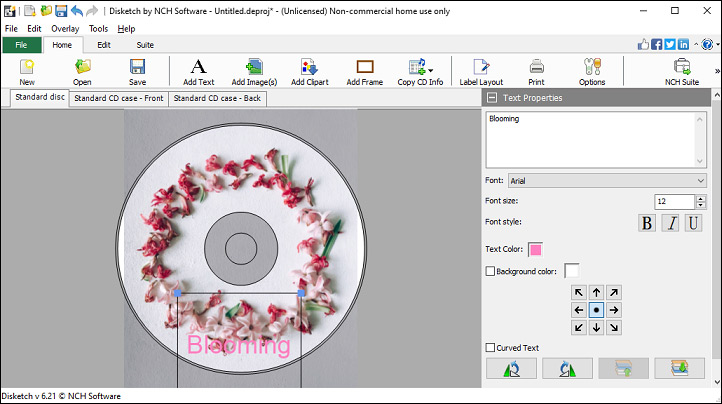 Developed by NCH, Disketch Disc Label Software is also a professional CD cover design software. If you are looking for a minimalistic yet powerful tool to design the CD cover, then you should check out it.
With it, you can create covers and labels for CDs, DVDs, or Blu-ray. You can also personalize the cover by adding your artwork or images, stylized text, clipart, and frames. After designing, you can export the cover as PDF or JPG. Additionally, you can print your creation as standard A4 paper sizes right in the software.
You may also like: How to Convert Picture to PDF on iPhone (3 Efficient Methods).
Ronyasoft CD DVD Label Maker
With Ronyasoft CD DVD Label Maker, you can create your personalized CDs. This free CD cover design software enables you not only to make your CD covers but also to print the CDs' labels.
If you have no idea where to start, you can refer to its pre-designed cover and label templates. The large clipart image gallery and background collection are also accessible. Customizable background settings, layers, text, objects, visual effects, etc. can all transfer the plain cover to a masterpiece. You can create personalized CD covers like a pro as you get to choose the quality, font, and colors.
exPressit SE
exPressit SE is another amazing CD cover design software for Windows. You can use it to design professional covers for many disk types like CD, DVD, Floppy Disk, Blu Ray Disk, Business Card, Cartridge, MiniDisc, Jewel Case, and more.
To customize the CD cover, it lets you add images and text. You can use an image from its collections or browse from your PC. Text can be modified with various font styles, font sizes, colors, etc. The only downside of this software is that the interface looks old school. To conclude, it is a great tool to help you design, preview, save, and print your CD cover with a printer collaboration tool.
Related post: How to Convert DVD to MP4 for Free – Solved
Conclusion
To sum up, we've got the 4 best CD cover design software in this post. Which one do you like most? If we miss some great tools to design CD covers, welcome to make supplements in the comments are below!