Gamers and video editors like using 4K monitors to play games or edit videos. But, it is difficult to find a good computer monitor with 4K resolution. Good news: MiniTool has checked almost all 4K monitors and listed the top 4 best 4K monitors.
If you like watching movies, creating and editing videos, you had better choose 4K monitors. 4K monitors ensure you have a better multitasking experience for work or more immersive gaming experience.
However, it can be a daunting task for beginners to choose a high end 4K monitor. Fortunately, we have checked out the best 4K computer monitor and have the best ones below. So, you can choose a suitable one to create and edit videos, play games, watch movies, etc.
4 Best 4K Monitors
#1. Acer Predator X27
As one of the best monitors, Acer Predator X27 gives you the best HDR experience. If you need to do a lot of professional photo or video editing in the wider Adobe RGB color space, you can't miss this 4K monitor because it has an impressive color gamut, and has excellent motion handling.
It offers excellent low input lag and fast response time, and has excellent wide viewing angles, thus it is a great gaming monitor.
Unfortunately, Acer Predator X27 has a disappointing native contrast ratio. In other words, in a dark room, the blacks appear gray.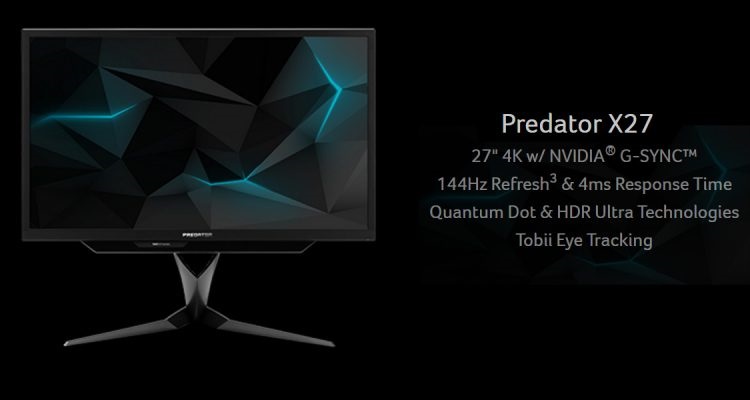 Pros
Excellent wide color gamut
Excellent HDR brightness
Very high rated and tested brightness
Cons
Performs poorly in a dark room
#2. Acer Predator XB3 (XB273K)
There is no sleek, slim-bezel wonder. In general, the XB3 is relatively dowdy styling and fairly old-school bezels although there is a panel of fully configurable LED mood lights along the lower surface of the bottom bezel and you can manually set the color output of these LEDs.
There's no USB Type-C input. In fact, you can only connect DisplayPort and HDMI to Acer Predator XB3. Therefore, many laptop-based gamers are disappointed.
Pros
Low input lag
Great color reproduction
Cons
Limited number of ports
#3. Asus ROG Strix XG438Q
The screen of Asus ROG Strix XG438Q combines a vast 43in diagonal with HDR, AMD FreeSync 2 and a 4K resolution, and this 4K monitor is designed to sate both PC and console players. Thus, this monitor is more expensive than almost any other gaming monitor on the market.
The 43in diagonal is the most prominent feature. As you want more pixels to keep things looking crisp from across the room, the 3840 x 2160 resolution makes sense for a screen of this size.
There are two audio jacks, two USB 3.0 ports, and an HDMI port on the side of the screen, two additional HDMI ports and a DisplayPort connection face downwards.
Asus ROG Strix XG438Q works well in bedrooms and living rooms because of its sheer size. And this 4K monitor will suit some PC players. Please note that this screen's size won't work for everyone.
Pros
Huge, immersive 43in 4K screen
Great core image quality
The Larger screen size makes seeing enemies easier
Cons
Looks a little dated
Size could not suit some situations
BGR profile might make text a little fuzzy
#4. BenQ PD3200U
BenQ PD3200U gives you an impressive viewing experience up to wide angles because of it offers extreme color accuracy. This 4K monitor includes REC. 709 ability, 10-bit color adjustment feature and sRGB technology, thus it can provide an enhanced view in dark rooms. Besides, this 4K monitor contains the darkroom mode, making better adjustments for contrast and brightness levels.
With keyboard and mouse controls, you can manage all display controls. By using USB 3.0 ports, HDMI inputs, Mini DisplayPort and DisplayPort, you can set up configuration and content delivery from external world.
Pros
Rec. 709 ability included
Solid grayscale performance
Robust feature set
Cons
Limited advanced color options
Bonus Tips – Download Movies and Edit Videos
Download Movies
MiniTool uTube Downloader, a free YouTube ripper, allows you to download videos, films and movies from YouTube for free.
Edit Video
To create and edit video in 4K monitor, you can try MiniTool MovieMaker. It is a free, no ads, no bundle video editing software without watermark. With this tool, you can easily create a cool video with transitions, filters, animated texts, etc.