This guide will teach you how to create a new project, save a project, and open a saved project in MiniTool MovieMaker.
For each video you create, MiniTool MovieMaker creates a project file accordingly. A project file contains all information about the components used in the video, the order of media files on the timeline, how the effects were added to the video, etc.
MiniTool MovieMakerClick to Download100%Clean & Safe
Create a Project
In general, you can create a project in two methods.
1. Create a Project File from Project Library
Launch MiniTool MovieMaker to enter the default project library window. There, select a proper aspect ratio and choose New Project.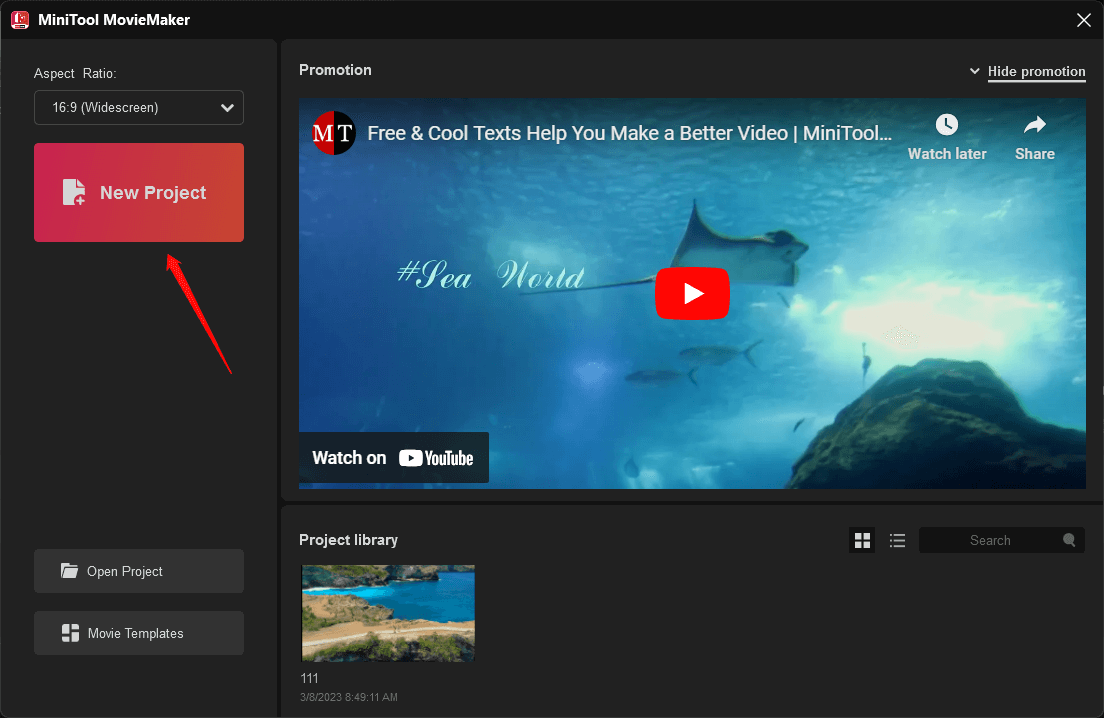 2. Create a Project Pile from Top Menu Bar
You can first enter the main window of MiniTool MovieMaker. Then, navigate to More (hamburger icon) > File > New Project and select an aspect ratio to begin.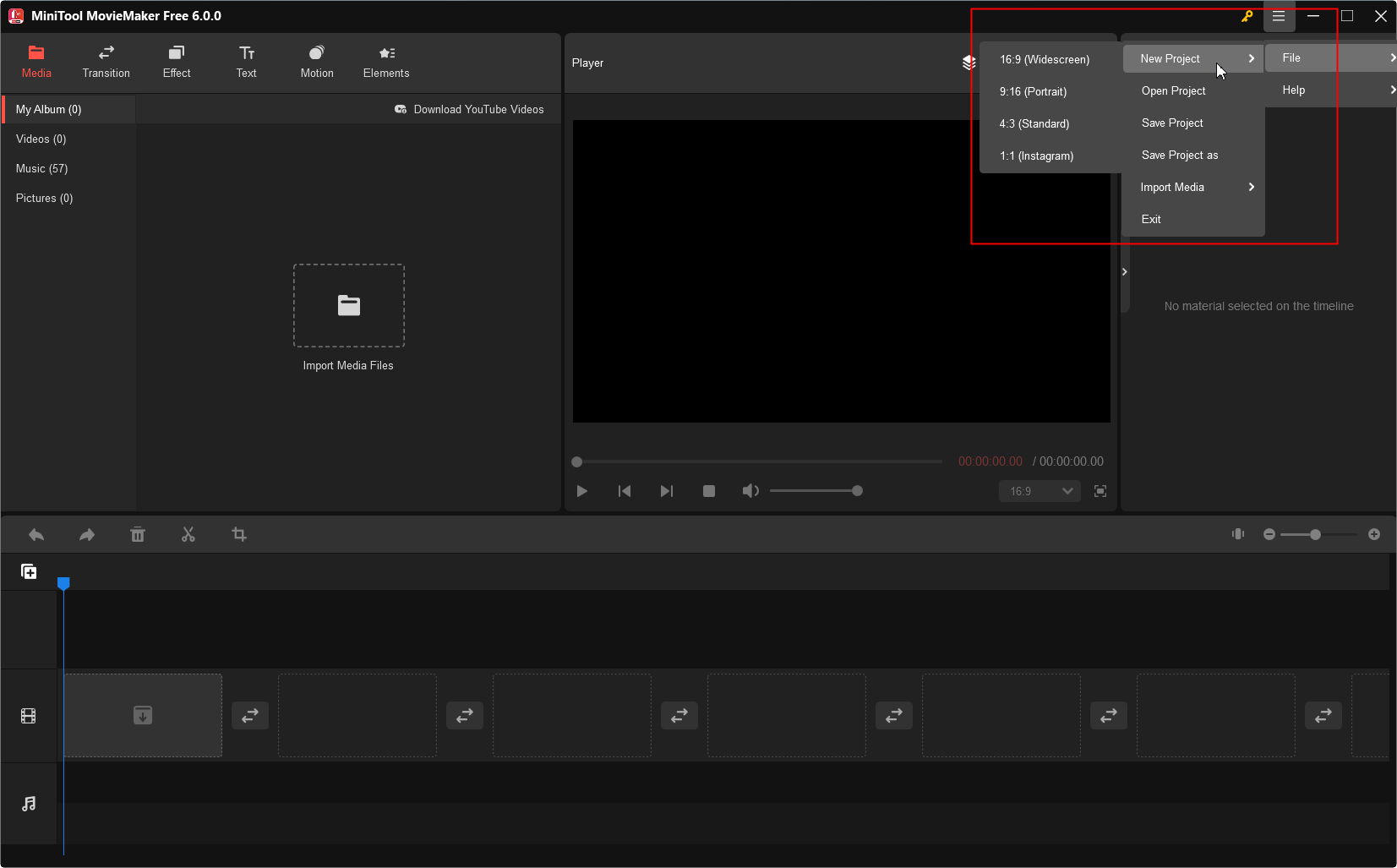 Save a Project
If you haven't completed your video creation or editing but you have to stop now, you can just save the current state as a project file, which can be opened in the future to continue editing. Just follow this path: More > File > Save Project / Save Project As.
If you have saved the video editing as a project file before, there is a difference between the Save Project and Save Project As options:
Save Project: Just save the current state to the original project file to replace the previous state.
Save Project As: Save the current state as another project file. Thus, you have both the current and previous state copies.
Open a Project
Similar to creating a project, you can open a project file either from the project library window or from the top menu bar in the main window.
1. Open a Project from Project Library Window
In the project library window, all recently saved projects will be listed there. Just double-click on the target one to open it. If you can't find your desired project there, just use the Open Project button to seek it on the local computer.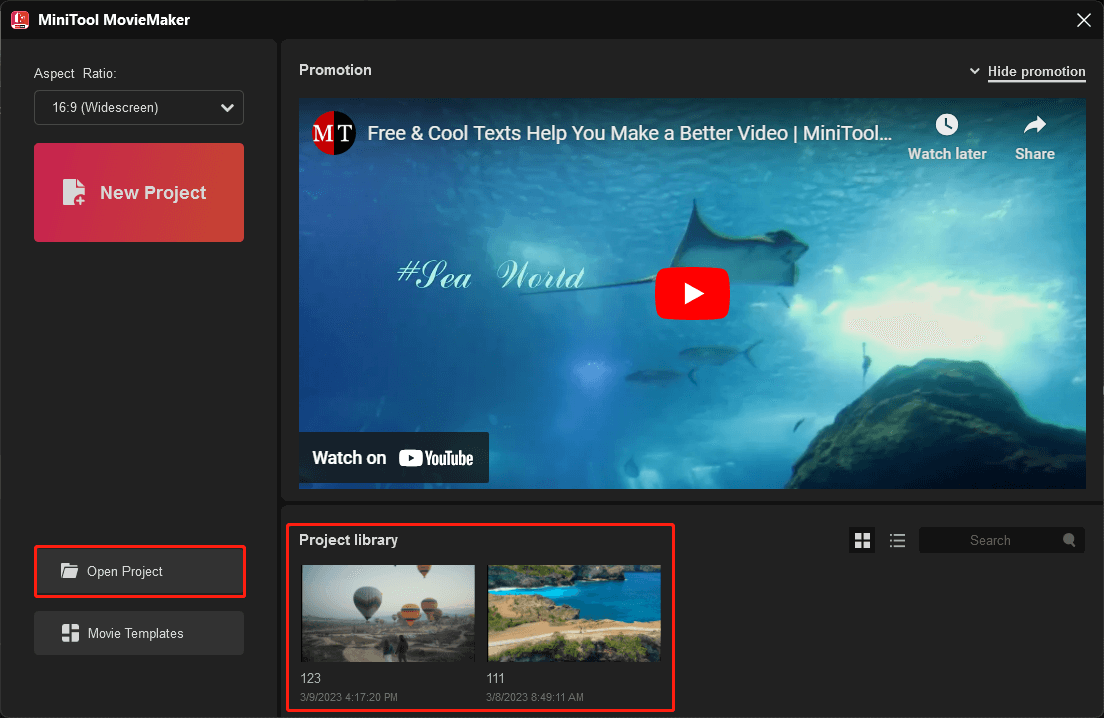 Note:
MiniTool MovieMaker can only open video projects created by itself.
2. Open a Project from Top Menu
Just go to More > File > Open Project to find the desired video project and open it.
Note:
This way can only open the projects created on the timeline (.mmm). It can't detect the projects made with templates (.tpl).