GIF can be founded on Twitter, Facebook, and other websites. Have you ever wanted to save Twitter or Facebook GIFs? If yes, you've come to the right place. In this post, I will show you the top 5 GIF downloaders to help you get GIFs from websites.
You can't directly save GIFs from Twitter and Facebook, but there are some other ways you can try such as use a Twitter or Facebook GIF downloader and find the GIFs you are interested in on GIF downloading websites. Read this post and you will know the top 5 GIF downloaders on the web. (Want to make a GIF from video, try MiniTool MovieMaker)
Here's a List of the Top 5 GIF Downloaders
EZgif.com
Tweet2gif
FBDOWN.net
GIPHY
GIFER
#1. EZgif.com

After trying many online Twitter GIF downloaders, you may find most of them will convert your Twitter GIFs to MP4 format. If you want to directly get GIFs from Twitter, here recommend EZgif.com. Ezgif.com is a GIF editor as well as a GIF maker. However, it also can be taken as a GIF downloader for Twitter.
It's very easy to use it to download Twitter GIFs. Go to EZgif.com and click on Video to GIF. Copy and paste the Twitter GIF link in the box and upload it. Then press on Convert to GIF and you can save the output GIF to your device.
#2. Tweet2gif
Tweet2gif is a GIF downloader app for Twitter. By using this tool, you can easily rip GIFs from Twitter or save GIFs from Twitter in MP4 format.
To download Twitter GIFs, you need to open your Twitter app and copy the link of the Twitter GIF. Then go to Tweet2gif, paste the URL in the box and click on Download GIF. Later, the GIF will be saved on your phone.
#3. FBDOWN.net

To be honest, downloading GIFs from Facebook with an online GIF downloader is impossible. The only way you can do it to download Facebook GIFs in MP4 format and convert the downloaded file to GIF. Here introduce a Facebook video downloader – FBDOWN.net. It can download Facebook GIFs in MP4 online.
After getting the downloaded MP4 file, you can use a GIF converter like EZgif.com or MiniTool MovieMaker to convert MP4 to GIF.
#4. GIPHY
Unlike the above GIF downloaders, GIPHY is a GIF search engine that allows you to download and use all the GIFs for free. More importantly, you can save the GIFs you like to your device without using third-party tools. The website holds millions of GIFs, so I'm sure you will find some great GIFs on GIPHY.
Just right-click on the GIF you want to save from GIPHY and choose Save image as…. Then the GIF will be automatically downloaded.
#5. GIFER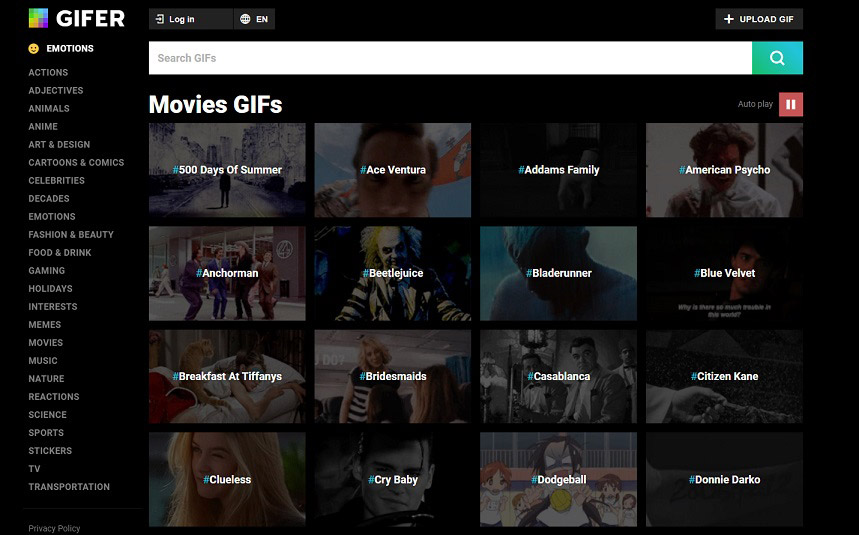 GIFER is another GIF downloader with tons of high-quality GIFs. The website is well-organized which makes it easier to find the GIFs you're looking for. To get GIF from GIFER, click the desired GIF and you will see the Download GIF button. Afterward, hit the button to download the GIF from the website.
Conclusion
This post offers you 5 best GIF downloaders. With them, you can download GIFs from the web successfully!